The pictures today are literally from the family history project, taken by my father of a 4th of Joly parade. Not, however, just any 4th of July Parade. While 200 years isn't much for most European Nations, it was, in fact, the age of America in 1976. These images are from the Bloomington Indiana 4th of July Parade in 1976. For many years our family went to the parade, then for many years, we didn't. Then we started again when the children of the 1970's had the grandchildren. Then everyone slowly moved away, we still tried to gather for the 4th of July, but when it was a long plane ride from the West Coast or the East Coast, we slowly stopped going. This one, however, was a very special parade.
First, let me apologize for the three upside down pictures. Yes, I could quickly fix those, but The instead I wanted to show them as is. Post-scanning and pre-cleanup. In many cases, I have removed some of the slide blemishes from many of the pictures. The aging, discoloration, and issues that have nothing to do with the actual image, rather the 30, 40 or 50 years the slides were on this earth. Slides, like anything else, decay. The decay of the slides is the only thing I have fixed. I have corrected the scanned position of a few of the pictures, but these are in a folder that has not as of yet been fixed. So you get them as they were scanned now nearly two years ago. Some right side up and some upside down.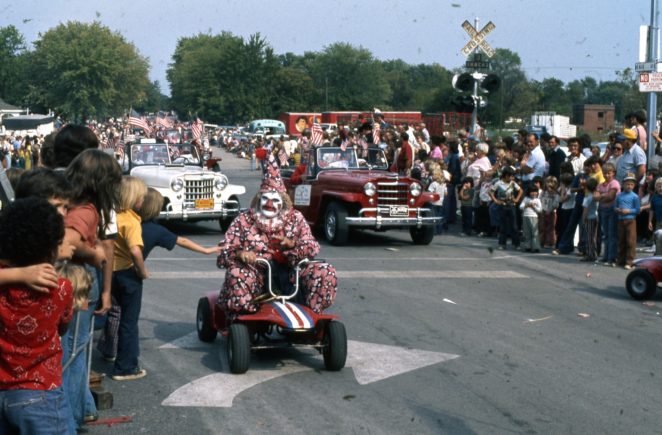 (Author's Note: I've looked back here at clowny McClown face several times in the past two weeks. I never realized until this morning how angry the clown was. No wonder people are scared of clowns!)
Thinking back to 1976, America had come out of a difficult period. A president for the first time (Nixon) had resigned the office. His behavior during the reelection campaign of 1972 and the cover-up of the activities was a huge national issue. People were angry and frustrated; the upcoming bicentennial was suddenly bigger I suspect that it would have been. It was a chance to heal and see the good things. To forget some of the bad things. I remember that parade still, standing in the hot sun. Roasting that July day but, like the moon landing and Skylab, happy to be part of history. I guess that is something we all think about as we get older, being part of history.
.doc
family historian