We went out to dinner last night at one of our favorite places near us. We have a lot of favorite places that are within a 20 or so minute drive of the house. We went early (in the DC area it feels like dinner for most people starts at 7 pm). The restaurant was fairly empty but started to fill up as we were finishing our always delightful meal (there is a reason we love Zane's, first it is close to our house. Secondly, they serve just amazing Japanese food. You can find my Yelp review of the restaurant here. The reason for this story, however, is that as we were walking out, I noticed a young couple dressed to the nine's. Realizing that May is prom season I wondered if this was a first date or Prom night.
That got me thinking about our first Prom experience, my daughter going while we still lived in Greenwood. She is the only one of our kids that graduated from Center Grove High School. The twins graduated from Northwest High School in Maryland. My daughter's prom experience was interesting. Mostly because she went, not with a boyfriend but with one of the coolest people she knows her good friend. He is someone that I would honestly say is a part of the family. Someone that I am proud to know. He is a Facebook friend of mine. My daughter's boyfriend, before prom was a bozo. I don't and won't mention his name ever again, nor would I want to resume my acquaintance of him.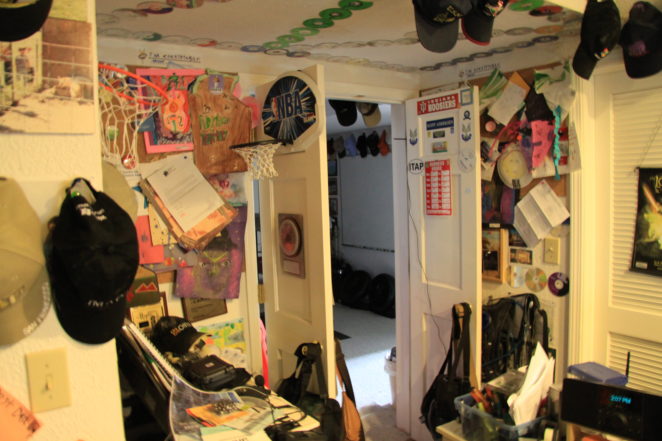 He was a bozo. I cannot think of better word to describe him. They broke up before prom her junior year. In stepped her good friend. Again, a wonderful young man. He laughed at my jokes which in my world makes him a very smart person. My jokes are the best jokes, if you don't believe me, ask me and I will happily tell you that my command of the dad joke world is second to none! Anyway, the first two pictures are of my office in the basement of our house in Greenwood, the rest are of prom prep. I included the office pictures because, well they demonstrate that my office remains just as messy even after moving two times from the time of this picture!
.doc
Family Historian