Beaver Island Michigan, a place we spent a week with friends for vacation many years ago. First, off you see people in the water and hanging out in my father's picture the water was cold. The air was around 75-80 degrees by the middle of the afternoon, the warmest the water ever got was 57 while we were there. So, it was really cold water, and we didn't care. We started and ended every day on the island in the water. In part, however, because other than wandering around there wasn't anything to do on the Island, it was the time before cell phones. We did a lot of reading and a lot of swimming. Beaver Island is located off the coast of Michigan (both LP and UP).
Beaver Island was once the home of the Mormon Church in Michigan. Famous as that was the first American Civil War beginning in Michigan in 1848, `12 years before the cannon balls flew in South Carolina. The events in Michigan changed some things in the US, Including the migration of the majority of those affiliated with the Mormon Church to Utah. We got to Beaver Island via the ferry, and we were allowed to bring out the car. Well, it wasn't my car. It was my parent's car. We drove from Bloomington to Travis City Michigan. That was a long 10-hour drive. I think, but I am not definitely sure that we spent the night in Travis City before jumping on the Ferry in the morning.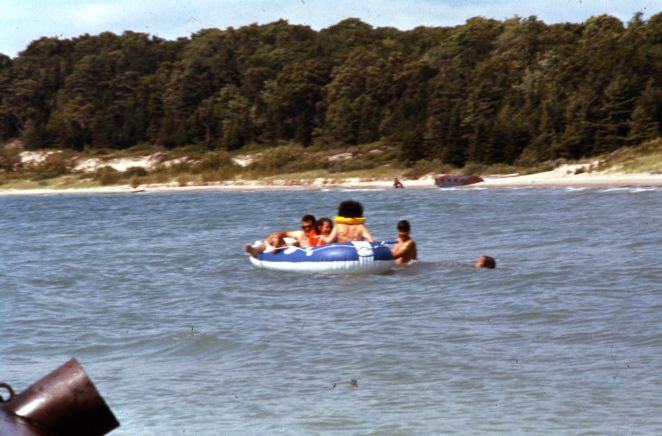 The trip out to the island took about an hour. I love boats, so I had a blast. The Great Lakes, in particular, Lake Michigan and Lake Superior, are larger than you think they are. Beaver Island had transformed a few years before we vacationed there. I think we were there around 1977. The island had a surveyor lay out roads and lots for future development of the land. That project had finished in roughly 1970 and the development never really took off. But the grids were still there. Dad and I walked several of the laid out future roads that were never built. We also wandered by the lighthouse on the island. Then back to the cottage for lunch. Oh yeah and hope in and go swimming!
.doc
family historian