There are a couple of great pictures of vacation dogs today. Vacation Dylan is a lot different than daily Dylan. The first vacation he ever went on with us was to Virginia Beach Virginia. The Marriott hotel there allows dogs on the top two floors. That was July 2012, Dylan had been with us for about a month when we wandered off to Virginia Beach. The Vacation dog was apparent from the moment we hit the hotel. First, he didn't eat dog food the entire weekend. He snacked on people's breakfast and ate noodles (we made Spaghetti in the room that night for dinner). Vacation Dylan likes to sleep in the middle of hotel beds. Vacation Dylan likes to wander on the Beach.
In Virginia Beach vacation Dylan also got to go into the CVS. It is allowed in Virginia Beach for dogs to go in. "An enlightened place" I suspect Dylan would say.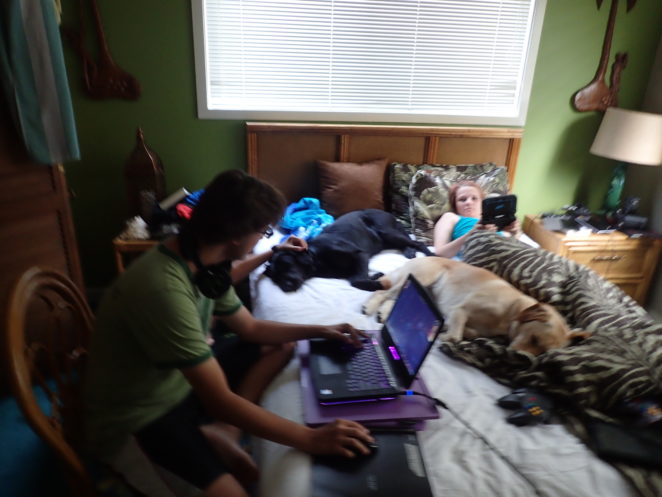 The pictures today are a couple of years later (2014) on our second trip to Oak Island North Carolina. We took both Raven and Dylan (Raven having joined our family in April of that year). This trip is the famous Drama Queen incident with Raven. She hurt the dew claw on her right front leg. We ended up putting a purple bandage on the injury. Raven liked being babied so much. At some point on the third or fourth day, I suspect the original injury no longer hurt. So, Raven started limping on the other leg. To get the sympathy that she so loves! Everyone was shocked when I pointed out to them that their dog (the twins and my wife) was, in fact, a drama queen.
Its funny, the two of them, Raven will get on the big bed in the Master Bedroom, but she won't spend the night there. That is Dylan's bed. He sleeps (with pillows) in the center of the master bedroom. Raven tends to sleep in the space between the twins rooms, or on one of their beds. Even vacation Raven let Dylan have the bed where my wife and I were sleeping. That is the dynamic between the two of them since day 1. Raven has always been in charge, but she defers to Dylan when it comes to the sleeping arrangements. The complexity of the relationship the two of them have is something I should probably spend more time thinking about. Humans could learn from Dogs!
.doc
family historian