Images of another Christmas day, tucked in the Scenic #3 folder. It is funny how the memories flow around the moments. I am actually in a couple of these pictures, but the where is lost to me. The disconnection of memory for location is something we struggle with as humans. I have memories of visiting my grandparents on both sides (mom parents and dad's parents). I spent a lot more time with my mom's parents as a child than with my dad's parents. But I do have recollections, moments. What I don't always have is the connection between that moment and an image. I recall sitting with my grandfather (my father's father and the TV was on.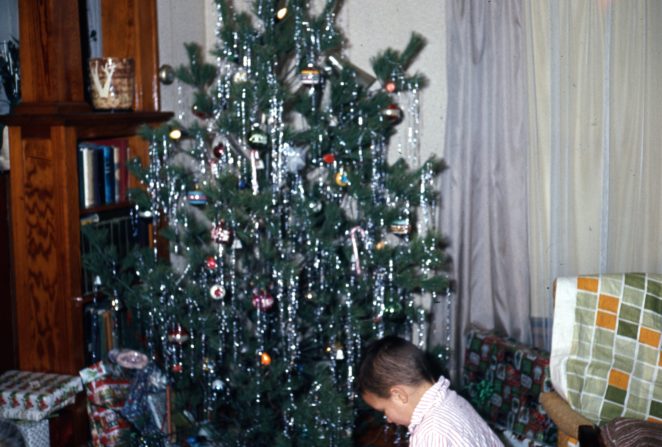 There was a basketball game featuring the Chicago Bulls. Previously at Lake Ripley on Thanksgiving, I had learned from my mother's father that I was a Bears fan now (and would be for the rest of my life). Basketball at that point in my life was a new sport. My father's father informed me that I was a Bulls fan. I guess I was meant to root for Chicago teams, being born there and all. My love of the Bulls comes from my father's father. My love of the Bears comes from my mother's father. Both of my grandfathers loved the Cubs (and disdained the White Sox), and that is something that I have followed. I also love the Chicago Blackhawks, the Hockey team of Chicago and the Chicago Fire, the Major league soccer team.
Over the years I have been to games with all of my favorite teams. All of these memories float around inside my head but aren't connected to many of the pictures I have. I suspect based on ages of my sister and me, as well as the ages of my two older cousins this was probably 1964 or 1965. We would move down to Bloomington Indiana shortly after these pictures I suspect. Of course, this a Christmas day celebration and many of the pictures were taken by my grandfather even though they were in my father's slides. He kept the two separate with a few rare exceptions. There is a rare mom picture; she didn't often like to have her picture taken. Celebrations are always interesting; I just wish I could connect this to memory!
.doc
dreams…