Both of my grandfather's loved Golf. My father, not so much. I never played golf with my father's father, but I did many times with my mother's father. Avoiding, names of course because that presents an issue in the modern security world. But there are a couple of pictures of golf courses. This the second blast of pictures from the scenic five folders. These are probably from that time before I was on the scene, or I was very young. One of my happiest childhood memories, when I was a little older, was wandering to the Lake Ripley Wisconsin Country club and learning golf. I was never very good as a golfer, but I love hitting the ball. I also loved spending time with my grandfather.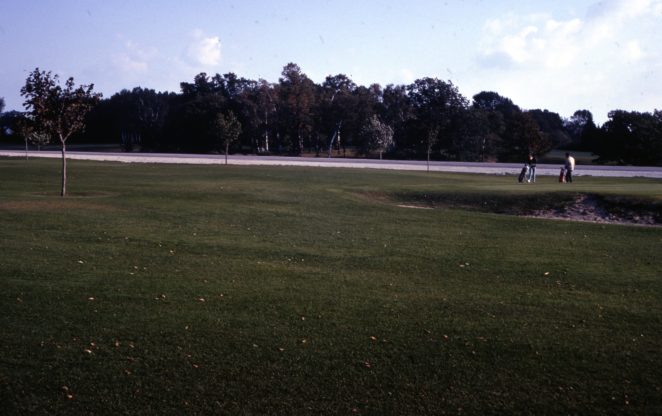 We talked, all 18 holes, and sometimes we would stop at the 19th hole for a soda. When I was first learning, I got to hit from the nearer tees. But that was soon not the case, and I was made to hit from the furthest tees. I could drive the ball a good distance, I just never had a short game. You have to have the short game to be a good folder. As the famous golf line goes you drive for show, you putt for dough. I never could chip. I could putt. I spent several summers at a Bloomington Indiana Putt-Putt. Back when miniature golf was first exploding in the US. Not the miniature golf where you were putting into a clowns mouth or trying to snaky you way through a huge windmill.
Rather, just straight angles and bouncing the ball off the walls, to make it into the hole. There were tournaments and all sorts of events, and a good friend of mine was the course manager for a couple of years. My putting continued to get better. The rest of my game sadly never improved. I guess I was never destined to join the PGA tour. Or for that matter, be a good golfer. I just enjoyed hanging out with my grandfather. I suspect he enjoyed my company as well. I doubt he was watching my game to get pointers to improve his game. I still have golf clubs but don't go out very often. The local recreation park has a nice driving range, I've been there once in the past six years.
.doc
golf is not a good walk spoiled