The Petronas towers at night. That was often the view I saw of the towers. We would start early (well I would) because I was still working a US project as well. I would have my US 6 and 7 am calls. Then head to the towers, and we would work until the evening. We would often pack our computer bags, drop them off at the hotel and wander off for dinner. There are many wonderful restaurants around the KL Towers. I suspect over the course the project we hit all of them. There were also wonderful restaurants both at the JW Marriott and the Mandarin Oriental. I stayed in both hotels during the three trips to KL. They are both wonderful hotels and have several restaurants.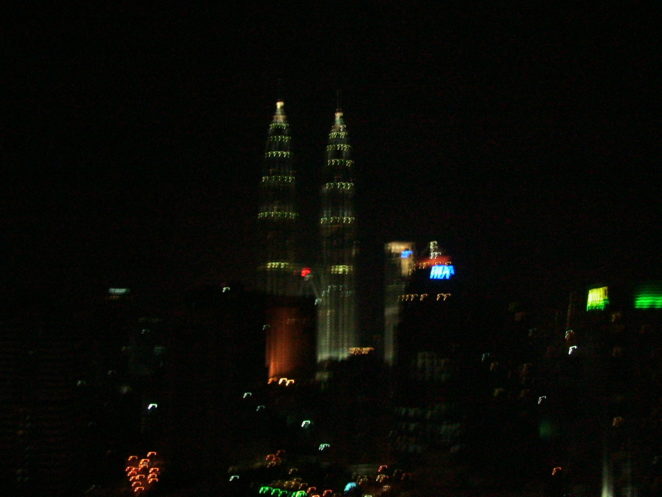 My favorite thing about Malaysia was walking the KLCC mall. Now I shouldn't say that was my favorite thing; it was something I enjoyed. There was a movie theater there, plus one of my favorite mini-museums. The Malaysian Oil Company built the Petronas Towers then known as Petronas (I believe it still it, but it has been ten years, and I haven't' checked). They, Petronas were huge sponsors of a Formula One team. Plus there is a KL race every year. It is in the Palm Plantations just outside KL on the way to the international airport. I wasn't there at the time the race was run, but I enjoyed the Petronas Formula One museum that used to be in the KLCC Mall.
The other thing was the season; the KLCC mall was filled with amazing Holiday Decorations. My first trip was during Ramadan, so most of the team wasn't eating lunch. I was on my own for lunch and wandered the Mall to various restaurants for Lunch. The team during Ramadan fasted during the day. I was amazed by the dedication and devotion. I was careful to not bring food into the team area; it would have been disrespectful. We would often meet in the Mandarin Oriental lounge in the evening the first trip, but in the afternoon on the later trips. It was a comfortable lounge, and the chairs were nice. Back then I was traveling all he time; I usually worked 12-14 hours a day and most of the weekends. My goal was to finish as early as possible so that I could go home!
,doc