Baltimore Maryland is a vibrant city. It gets a bad rap in the US. But it is the launching point for the career of Edgar Allen Poe. His grave is still in the city. The inner harbor has been renovated over the last few years as well. Baltimore for a long time was an industrial Northern City. Part, although not in, what was once called The Rust Belt. Baltimore is now a huge shipping harbor. But there was a time when it was a huge manufacturing city. As manufacturing evolved, Baltimore transitioned away from the building. For someone trained at a very early age, to stop and read historical markers, Baltimore is a glorious day! There are many places one can stop and see hospital moments of the past — not the grand thousand-year-old buildings of Europe.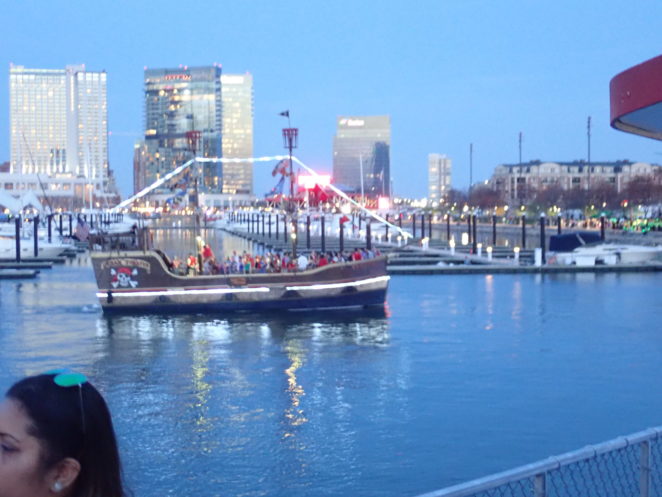 But American history from the time of the revolutionary war is all around Baltimore. The pictures today were from the Festival of lights last summer. The sun setting over the Baltimore Harbor was a delight for my wife and I. Watching the pirate ship (it has a water cannon by the way) was also fun. As the Pirate ship entered the inner harbor, they blasted the water cannon. Luckily, not in our direction, we were on top of the harbor cruise boat and had no cover. There are harbors around the world that have evolved. I remember the harbor in Bangkok from when I was younger. Compared, the harbor in Bangkok I saw when I was older visiting my parents. The evolution of the harbor is interesting. First off the emergence of pleasure craft continues to expand.
The other side is the rise of the giant container ships. They, container ships dominate the modern harbor. They can be quickly offloaded, and placed directly on semi-trucks and trains to be shipped elsewhere. Or they are unpacked an put on smaller trucks for delivery. A world of goods and services that move through the world's oceans. All of that in the modern harbor. The inner harbor of Baltimore Maryland was built in the days of sailing ships. It is shallower or less "deep" in terms of the channel for personal and pleasure craft that doesn't matter. But for a container ship weighing thousands of tons, it doesn't work. Cruise ships also don't dock in the inner harbor. The harbor cruise ships that we were on are much smaller, only a little larger than most pleasure craft.
Baltimore is growing and becoming a vibrant city again!
,doc