Today we are wandering back to Greenwood IN. In particular an afternoon at the pool. I suspect we had many of those over the years. Well, it is more than suspect. I know we had many of those. At the time the pool was the center of most weekend afternoons. The only time the pool cover closed during the summer was when the thunderstorms that Indiana is famous for rolled across our neighborhood. Even then the kids would peer at the sky and pool from time to time.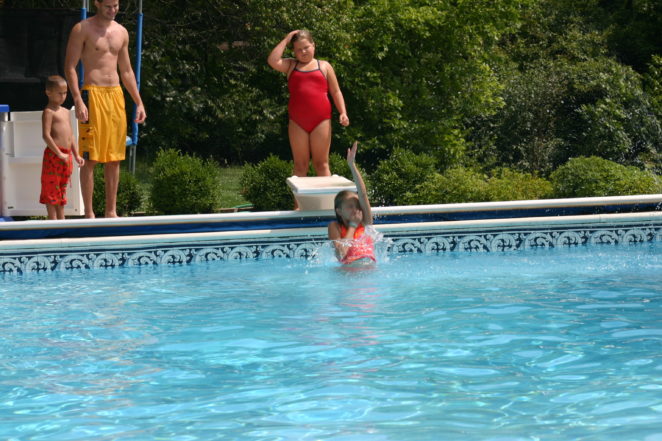 "Can we swim now?"
My wife found swimming suits for the twins. The swimming suits did two things, the most important being always keeping their heads above water. We had a neighbor come in and give the twins and my daughter swimming lessons in the pool. But as parents, we felt safer with the twins in the suits. There were a few neighborhood kids we had to ban from the pool as well. Those kids were not willing to follow the rules of the pool.
Over the years we tried some different adult seating arrangements. My favorite was the first, (the Hot Tub). When we first opened the pool for the very first time, the Hot Tub was right next to it. The Hot Tub, at least for the first summer was supposed to be Adult only. That didn't last very long, and the Hot Tub became part of the pool. The twins would hot in the hot tub, get hot, and hop in the pool to cool off. Not sure where in that reality we lost control. Actually, I wonder if we ever really had control!
.doc
Family Historian